After the Battle of Plassey in 1757, the Battle of Buxar in 1764, and the transfer of Diwani rights to the English East India Company in 1765, the British realized the importance of creating penitentiaries and gaols to administer law, order and criminal justice. Right from the Ambassador's House Gaol, in Lal Bazar, dating from 1733, the Harinbari House of Correction in 1787 testify to the inclusion of imprisonment among their penal methods. These jails, however, were never under the jurisdiction of the Local Government, and were not distinctively known as "Company's" Jails. The Harinbari Jail, for instance, was under the jurisdiction of the kotwal. It was only after 1790 that the Company decided to implement imprisonment with hard labour and the need to allocate funds for the construction of proper central jails. The first jail to be institutionalized under the British was the Dacca House of Correction (1790), followed by the Midnapore Jail (1792), to be followed by other jails in Bengal. The Old Alipore Gaol or the Presidency Jail,as it came to be called later, was constructed gradually from 1810 onwards, but was made a central jail much later in 1864.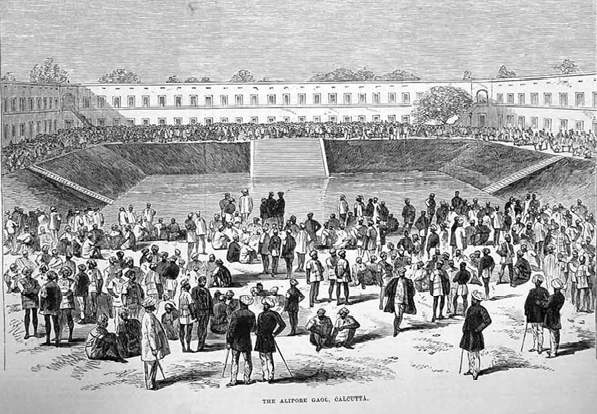 This Presidency Jail which was formerly known as the Harin Bari Jail stood in the present day Victoria Memorial grounds, not far from present day Lal Bazar. Commonly referred as 'Old Alipore Jail', Presidency Correctional Home got the status of first Central Prison in Bengal in the year 1864. Made of barrack-style buildings arranged around a central courtyard, the Presidency Jail (Old Alipore Jail) was built incrementally over a period of time rather than to any predetermined design.
The Old Alipore Jail was shifted over time in the early twentieth century for the purpose of better administration to the other side of the Adi Ganga or the Tolly's Nullah and the newer Alipore Jail came up in 1906. Unlike the older Presidency jail, this relatively newer jail, at Alipore, was largely constructed to a unified design complete with a central tower, radiating cell blocks, separate quarters for Europeans and Indians, and areas apportioned for prisoners of various categories
In the words of the Bengal Gazetteer of 1914, the new jail was a ' modern up-to-date prison with modern improvements '. In 1913 the new jail took over the functions of the old Alipore Jail, which was then renamed as the Presidency Jail, and the new jail began its tenure as the Central Prison, including the incarceration of freedom fighters and later the Naxals who constitute an important part of modern Indian history. Gradually from a penitentiary, to a place of struggle against the brutalities of the British, the Alipore Central Jail had evolved into a place of reform and redemption in the age of liberal and democratic thought in postcolonial India. With the transfer of the inmates to Baruipur Central Correctional Home, the Alipore Central Correctional Home is the site of the present day Alipore Independence Museum.